Pigmented tongue is primarily due to adrenal failure and a disease called Addison's disease that results in the edges of the tongue getting black spots. This is an extremely serious disease that can result in death if not closely monitored. A proper diagnosis of this problem is essential.  Adrenal function can be tested, but before you begin getting alarmed I must tell you that it is extremely rare with only 1 in 100,000 people getting it. Because of its rarity it is often misdiagnosed by doctors as Geographic Tongue or Black Tongue which are considered "benign".
However if you have read much on this site, you will know that I consider your tongue a primary indicator of your overall health and so no tongue issue should be ingnored, but instead should be used to help point you to your particular deficiency.
In the case of pigmented tongue being a sign of adrenal failure, you must also look at a milder problem of reduced adrenal function. In other words instead of your adrenal glands completely quitting it just slows down! Some doctors do not recognize this as possible and so refuse to look at the possibility.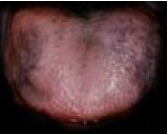 Other doctors like Jonathan Wright M.D. (medical columnist for Prevention magazine and author of several books on Nutritional Healing) argue strongly that there are definitely levels of function and many problems like chronic fatigue might be explained by this problem. It always seemed obvious to me that if a complete failure of something causes certain symptoms,  a partial failure or reduced function would cause the same thing in a milder form.
In other words, if a complete failure of the adrenals caused extreme fatigue, a slowing down of the system might cause mild fatigue. Doesn't that seem rather obvious? So what are the symptoms resulting from complete adrenal failure?
The major symptoms of adrenal failure come on slowly and they are:
1) Chronic worsening fatigue (tiredness)
2) Muscle weakness
3) Loss of appetite
4) Weight loss
5) Nausea
6) Vomiting
7) Diarrhea
8) Low blood pressure (causing dizziness and fainting)
9) "Tanning" or darkening of skin even though it is not exposed to sunlight.
10) Irritability
11) Depression
12) Salt craving
If you are experiencing a pigmented tongue and/or any of the above symptoms you should have your adrenal function tested immediately.  Discuss with your Doctor the possibility of Addison's disease and look into the Natural ways of boosting adrenal function.
More Resources:
One of the best books I've seen on natural ways to boost adrenal function for those with reduced adrenal function is "The Adrenal Fatigue Formula" for more info check out their website.
You will have new appreciation for your health, in particularly your adrenal glands and the sweet and powerful energy they provide you each and every day. Vibrant energy is a dear friend that once gone is sorely missed.
You will find more information in my book Treating and Beating Geographic Tongue and Other Tongue Problems useful in boosting your overall health.
If you would like more information before you decide see: