A "Scalloped Tongue" is a condition where it appears that the tongue has indentations or "tooth marks" around the edges. It is also called "Crenulated tongue", "Crenated Tongue" or "Pie Crust Tongue".  In "doctorese" it is referred to as  lingua indentata.
Some experts believe that it is associated with "Tongue Thrusting" where subconsciously the person is pressing their tongue against the teeth and causing the "toothmarks."
However, in some cases, the scallops around the edges don't really match up with particular teeth lending some doubt to the thrusting hypothesis in those cases.
Correlation with Beefy Tongue
But in many cases, the scalloped tongue coincides with cases of "Beefy Tongue" where the tongue appears to be "too large for the mouth"  lending credence to the possibility that the the teeth are in fact causing the indentations on the tongue because the tongue is too large.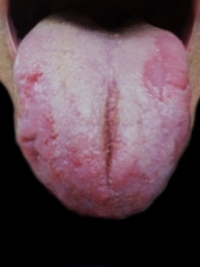 Beefy tongue is often considered to be the result of one of several nutritional deficiencies and so it is also possible that scalloped tongue is the result of the same deficiencies.  Often multiple tongue problems will appear on the same tongue as in the picture to the right.
In this case, the tongue exhibits several problems concurrently. Interestingly, the first thing I notice is not really a problem at all and that is the large median crack. Many tongues have a line down the middle (how prominent the crack is may be hereditary) and although this one appears brown (which may be a very minor case of  Black or Brown Tongue) it may simply be the result of a lack of proper cleaning.
The patch in the upper right corner is traditional geographic tongue which results in bald patches where the taste-buds and papillae fall off and aren't replaced quickly enough. Geographic tongue often migrates around the tongue and although may doctors believe that it is untreatable we have had great success in getting rid of it through a variety of methods.
In the lower left, we notice a couple of small "fissures" or cracks which are considered Fissured Tongue and can result from a variety of different causes including certain mineral deficiencies, toxicities, heavy metals and allergies.
Less obvious is the large beefy nature of the tongue and the minor scallops at the tip of the tongue. Scalloped tongue is covered in detail in Chapter 21 of my book "Treating and Beating Geographic Tongue and Other Tongue Problems". It has been attributed to malabsorption, Iodine deficiency and Edema among other things.
For More Information See: