Do you want to know the Secret to having a healthy tongue?
Well, you've come to the right place.
"Treating and Beating Geographic Tongue and other Tongue Problems" e-book
In this 173 page e-book you'll discover the solutions to your tongue problem.
No More Waiting!
When you order Treating and Beating Geographic Tongue and other Tongue Problems you'll also get your own "Quick Start Guide" with a Doctor recommended Vitamin program specifically targeted to Geographic Tongue. So you can get started right away.
Plus: Use the Secure Order Button Below
and you will be able to download the book instantly
No waiting for the Post Office to deliver it.
Today through the power of the internet you can get this valuable solution for only $39.95

Guarantee:
You must be absolutely thrilled with your new tongue so, I'm giving you a full 90 days to try it out and if you aren't 100% satisfied for any reason you can get all your money back and it will cost you nothing.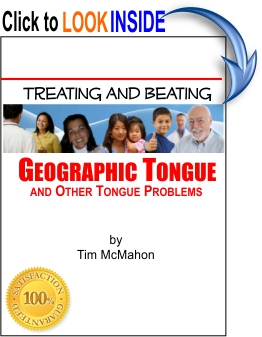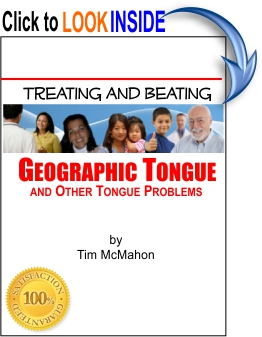 Retired Schoolteacher and geographic tongue sufferer Dorothy Chalmers of Scotland says,
"Well done in producing this excellent resource for the world! It is pure genius… your book is absolutely fantastic!"
Here is what Karen says,
Hi Tim,

I just read the table of contents of your book. WOW. I had no idea that you covered so much. I had so many of the problems.

Karen Anderson
Other Readers Agree… If your tongue is a mess you need this book.
Thank-You for your information it has been Life changing.

–Vanessa

 
… as long as I follow the book Ethan [age 3] is symptom free.

— Christi and Ethan, St. Albans, W.V.
… your book is absolutely fantastic.

–Dorothy Chalmers, Scotland
Tim,
I read your book already could not put it down.

— Larry, Ste. Croix
My daughter is 98% back to normal. It took 3 weeks…

–Sylvia
It is very apparent to me that you really do care about your readership.

—A. Moore, Etobicoke, Ontario, Canada

Dear Tim,
I received my copy of "Healthy Tongue Secerts". Thanks very much. You are one of the few people I know that did what you said you were going to do. Thanks….

–B. Smith

Hi Tim, things are much better .
I am healthy, my tongue much better and i don't worry about it anymore…
You were the most help of anyone when i was most concerned.
I really appreciate it…

–Dave
Here's what's in it…
See for yourself that you won't find all this information anywhere else.
Click for Details